Hire a board, get to the chopper and hit the slopes in this endlessly replayable snowboarding score attack arcade game – currently in early access and coming to consoles in late 2021
Infinite State Games present "Horatio Goes Snowboarding" – an arcade game where you hire a board, go snowboarding, avoid serious injury, rinse and repeat! It's our homage to retro skiing and winter sports games from the past – no story; just pick up and play pure arcade thrills.

You'll start every new game with a bunch of money, and the urge to snowboard. First you'll have to hire a board en-route to the helicopter which will take you to the slopes. Avoid traffic and make a dash to the end! Don't forget to pick up a board before you get to the helicopter though. That would be embarrassing…
Once the chopper has taken you to the top of the mountain, you'll start your downhill descent into chaos through increasingly tricky randomly generated courses. Rack up points by going through slalom gates – the more you pass without a miss the higher your score multiplier will increase
At the end of the course there's a finish line you can go through for an extra cash bonus. Then back to the helicopter you go!
If you get into an accident through a face-plant on the slopes or a hit and run on the road, you'll be patched up in the nearby hospital to the tune of $100. Run out of money, and it's game over.

What's a score attack arcade game without leaderboards? Compete against players all around the globe to be the raddest boarder on the mountains! You're gonna have to keep that chain up and your face out of traffic to make it to the top.

We're in early access which means we're not quite finished, but we're nearly there!
Visit the steam page here to check the status of the game
Become part of a community on our Discord and Twitter to help shape and balance the game with us.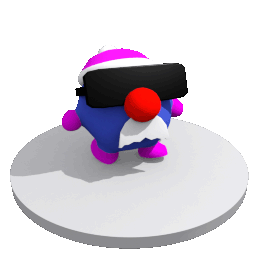 Why Early Access?
"Horatio Goes Snowboarding is a brutal arcade game, but we need to make sure it's not too brutal! Early Access allows us to bring the game to people before it is complete, and build a community around gaining feedback on balancing issues, features and unlockable characters. It's a game that pays homage to as many retro winter sports games as possible so we also would love to hear if you think we're missing anything important! We'd like as much feedback and help with balancing for difficulty as possible as well as crowd sourced ideas for the final version."
Approximately how long will this game be in Early Access?
"We'll be in Early Access until June 2021… maybe! Could go either way :D"
How is the full version planned to differ from the Early Access version?
"The full version of Horatio Goes Snowboarding will have unlockable characters, more obstacles and enemies, more music, plus the crowd sourced balance changes and ideas we get from the community during Early Access. It will also have a full set of achievements."
What is the current state of the Early Access version?
"The current Early Access build contains the city road crossing section and the snowboarding section. The player is able to play a full game from start to finish. We also have a leaderboard to encourage competition and help us see what scores people are capable of reaching! There is only one playable character and much of the art and ui is subject to a process of iteration. It is also missing some music which will be in the final full version."
Will the game be priced differently during and after Early Access?
"After we come out of Early Access the price may increase, or we may keep it free. We will work these things out in Early Access!"
How are you planning on involving the Community in your development process?
"The community will be invited to discuss changes and ideas in our Discord channel, our Steam Forums and also via our Twitter account. We encourage suggestions, participation and high score bragging!"